St Tropez and Surrounds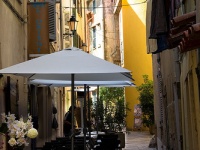 Behind the cafés, the small streets and old buildings of St Tropez form a picturesque scene, but they are popular venues for their multitude of shops and restaurants rather than their historical significance. Place aux Herbes is a lively square that has been a centre of activity for centuries; today it is a busy enclave of vegetable, fruit and flower stalls. Every May the town centre bubbles to life with the St Tropez Bravade, a colourful festival dating back to the 15th century. It originated as a procession in honour of the town's patron saint, whose bust is carried through the town, accompanied by a guard of honour with gun salvos, and Provençal singing and dancing.
The area immediately around St Tropez is pretty grim - congested roads are lined with billboards and neon signs - but the surrounding hills are almost uninhabited and make for a welcome excursion from the masses and the mayhem. The best view of this richly green and flowering countryside is from the hilltop village of Gassin, its lower neighbour Ramatuelle, or the tiny road between them, the dramatic route des Moulins de Paillas. Along this route there are three ruined windmills in the vineyards that were once powered by the dreaded winter mistral wind. Several vineyards offer wine tasting. Along the coast there are a number of good walking trails. Maps are available at the tourist office.