Citadelle Laferrière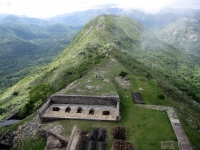 Citadelle La Ferriere © Stefan Krasowski
The Citadelle Laferrière was built in the first part of the 19th century after the country won its independence from France. Located near Cap-Haïtien, it is perched atop a mountain that lies five miles (8km) from the closest town. Though never fully used and long abandoned, the eerie fortress is fascinating. It has over 300 cannons and many cannonballs, as well as cisterns, dungeons, storehouses and bakery ovens. Visitors will find some signs and information, but the material is not comprehensive. It's best to hire one of the local guides to explain the place's history. The attraction also offers astounding views. Indeed, visitors can see all the way to Cuba on a clear day. Unfortunately, roads leading to the fortress are in very bad shape and the trip from Port-au-Prince is rough. Once visitors reach the little village beneath the fortress, they can either hike or ride horses up the steep hillside.
E-mail: info@haititourisme.gouv.ht
Website: www.citadellelaferriere.com
Telephone: +509 3816 0100
Admission: Entrance fee is $5.