Basilica of Our Lady of Peace of Yamoussoukro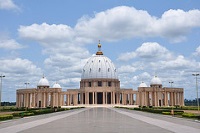 Yamoussoukro © Guillaume Mignot
Yamoussoukro is the official capital of Ivory Coast, however this seems to be only by name. The city is a five-hour drive from Abidjan and appears to be one of Africa's strangest capital cities. Paved streets and street lamps were built in preparation for the buzzing metropolis Yamoussoukro was supposed to be; however this development never came to pass, and so now streets exist with little to nothing between them.
The city's main attraction is the unforgettable Basilica of Our Lady of Peace of Yamoussoukro (Cathedrale Notre Dame de la Paix or Basilica Notre Dame). Larger than St. Peter's Basilica in the Vatican, Yamoussoukro's basilica is the largest Christian church in the world. It was modelled after the Vatican's St. Peter's, and even though the Basilica of Our Lady of Peace seats slightly less people than St. Peter's, it has a taller dome and a larger surface area.
The stained glass windows are also exceptionally beautiful - and, in fact, the cathedral boasts more stained glass than all the churches of France put together. The Basilica Notre Dame was consecrated by Pope John Paul II.