Bayonne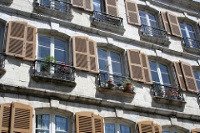 Bayonne © Richard Allaway
The popular holiday destination of Bayonne is the capital of Basque country, and a beautifully preserved cathedral city. Its narrow streets - lined with half-timbered houses - are atmospheric and perfect for exploring on foot. Bayonne is divided by the Nive and Adour rivers and is set between the mountains and the sea a few miles up the coast. Together with adjoining Anglet and Biarritz it forms the continuous urban area known as BAB.
The city's most striking landmark is the magnificent gothic Cathédrale Ste-Marie, dating from the 13th century. Bayonne also has two museums well worth visiting: Le Musée Basque, which showcases the traditions, architecture, and decorative arts of the Basque region; and Le Musée Bonnat, which displays thousands of drawings and paintings from the 16th to 19th centuries, including works by Rubens, Greco and Ingres.
The Bayonne Festival takes place every year for five days from the first Wednesday in August and is an explosion of activity with cow races, bull fights in the Roman arena, candle-lit processions and marching bands. Bayonne is well-known for its chocolates, marzipan and prime-smoked ham, all of which is available at the wonderful Covered Market. And according to tradition, if not historically verified fact, the bayonet was invented here in the 1600s.