Bonifacio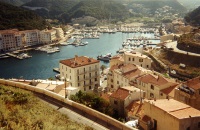 Bonifacio © Traroth
The ancient town of Bonifacio, at the very southern tip of Corsica, dates from about 833 AD, but there is nothing old-fashioned about the tourist trappings and commercialisation of this buzzing haven, which attracts huge holiday crowds, particularly in summer, now combining its ancient heritage with a glamorous resort atmosphere. The visitors come on holiday here for the magnificent setting: Bonifacio sits on a narrow limestone peninsula, the bright white cliffs plunging into the Bouches de Bonifacio strait, between Corsica and Sardinia.
The most scenic way to approach Bonifacio is by boat through the channel, almost a mile long, that protects the town's beautiful natural harbour. No wonder that the buzzing marina attracts yachts from all over the world, as well as ferries and passenger boats packed with tourists arriving on holiday from Sardinia and elsewhere. Alternatively, visitors can fly into Bonifacio from Marseille or bus from the other Corsican towns.
The Italian-flavoured town boasts quaint medieval architecture, offset with the requisite cafés, restaurants and boutiques catering to the tourist trade. Bonifacio's old town and citadel, built in the 12th century by the Genoese conquerors, is an interesting holiday attraction reached by a long, steep flight of steps. The citadel has been put to use in modern times as headquarters for the French Foreign Legion, which was based here between 1963 and 1983.
There are diversions aplenty to enjoy on holiday in Bonifacio and surrounds, ranging from watersports of all sorts at the nearby Plage de Piantarella to some splendid golf courses, and boat trips to the offshore Archipel des Lavezzi island group.