Dinard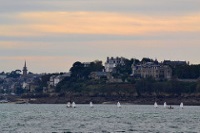 Dinard © Philippe Grillot
Opposite St Malo, sitting atop a rocky headland above the Rance, Dinard was a popular holiday spot with the British in Edwardian times, valued for the bracing sea air and lovely, long promenade. Even today, the seafront is lined with Victorian buildings, which ensure the town retains its elegant and sedate old world character.
The main Dinard beach is La Grande Plage, a strip of sand between the two peninsulas that define the edges of the old town. It is popular with families on holiday and gets crowded on hot days. Smaller and more isolated is Plage de St-Enogat, a 20-minute walk east through the village of the same name, or Plage du Prieuré, just a 10-minute walk from Dinard. There is a great difference between high and low tides, and swimming pools along the Grand Plage and the Plage du Prieuré beaches catch seawater during high tides for those who opt not to make the trek along the salt flats during low tides to bathe in the sea.
Dinard cannot boast much nightlife, despite its popularity with tourists, but there are many bars and good restaurants filling the town's streets and there is a casino for night-time entertainment.