Pau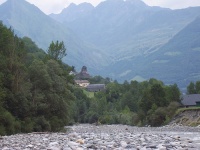 The popular holiday destination of Pau is situated 50 miles (80km) inland, high above the Gave de Pau River, and is a good base from which to explore the Pyrénées and the picturesque little villages of the Bearn region. This year-round holiday resort was frequented by the English in the early 19th century (at one time 20 percent of the population was from England) and many customs were imported from across the Channel to become entrenched, including fox hunting and afternoon tea.
Pau is home to 85,000 people and is the most cosmopolitan city in the western Pyrénées. While on holiday, panoramic views can best be enjoyed when strolling along the Boulevard des Pyrénées. Worthy Pau sightseeing excursions include the 12th century Chateau de Pau, containing some interesting contemporary artefacts including a crib fashioned from a single tortoise shell.
The Musée des Beaux-Arts is worth a peek with a collection of European paintings by the likes of El Greco, Degas, Zurbaran and Boudin. The people of the Pau and Bearn region are very proud of their language (a variation of Occitan) and heritage and have indulged in friendly rivalry with the Basques of Bayonne for centuries.