Phoenix Parc Floral de Nice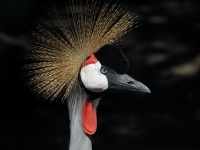 Just outside of Nice, near the airport, this vast tourist attraction includes a botanical garden and numerous animals, among other things. 2,500 species of plant are collected in the Phoenix Parc Floral and some of them are very rare; the tropical greenhouse is one of the largest in Europe. There is a greenhouse dedicated exclusively to orchids and another which features the biodiversity of Southern Africa. The aviary contains many species of exotic birds and there are beautiful butterflies in one of the greenhouses and an insect zoo, as well as several aquariums and a big lake containing birds and turtles. There is also a tacky theme park with automated dinosaurs and mock Mayan temples which will probably delight children. One of the highlights of the park is the Musée Départemental des Artes Asiatiques, the Museum of Asian Arts, which houses a collection of ethnographic artefacts, including silk goods and pottery, as well as traditional and contemporary art. This is a great excursion for the whole family and should happily occupy everybody for a few hours at least.
Address: 405 Promenade des Anglais
Website: www.parc-phoenix.org
Telephone: (0)4 9229 7700
Opening times: Open daily. 1 April to 30 October: 9.30am to 7.30pm. 1 November to 31 March: 9.30am to 6pm.
Admission: €2 (adults), free for children under 12. Entrance to the Museum of Asian Arts is included in park entry.