Victory Gate (Patuxai)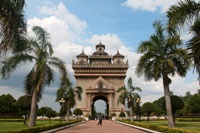 Modeled to mirror the Arc de Triomphe in Paris, Laos' Victory Gate is definitely a sight to behold. Although it is said to be a replica of Paris' Arc de Triomphe, the Laotians decided to one-up their colonial masters by building theirs slightly higher and with four gates (instead of the two that the European version has). Patuxai also has a number of decorative Buddhist ornamentations added to the original design. Apparently the structure was never quite completed - and the locals like to joke about the fact that it was supposedly built from cement donated by the Americans and intended for an airport - which makes the 'victory' a little less defiant but perhaps more snide. To the casual observer it seems perfectly finished. The monument is open to those wishing to brave the heat and climb the seven flights of stairs, which, once surmounted, offer great views of downtown Vientiane. There are souvenir shops in between flights of steps but these are quite expensive. In the same area visitors can see the World Peace Gong presented to Laos by Indonesia, as well as a musical fountain. The landmark has become a gathering point for locals and some great photos can be taken of the structure.
Admission: Entrance is free, but 3,000 Kip if you want to climb the monument.