COPE Visitors Centre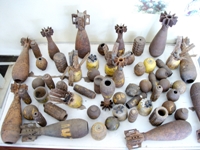 The COPE Visitors Centre can be a sobering reality-check for many visitors to Laos, but nonetheless is definitely worth a visit. Statistically, Laos is the most bombed country in the world, as a result of the US policy of letting planes offload their unused ordnance onto Laos during the Vietnam War (it was deemed unsafe for them to land with a cargo of unused bombs so they simply dropped them on Laos). This is an embarrassing and tragic aspect of the Vietnam War which many are totally unaware of. Laos has a significant amount of UXOs, or unexploded ordnance, particularly in rural areas along the border with Vietnam. Many residents of Laos have been victims of UXOs and the COPE Visitors Centre does vital work in educating the public and tourists and providing help for those who have lost limbs or loved ones to bombs. The Visitors Centre includes a gift shop and a selection of short films on Laos and UXOs. You may have to request to see the films but the staff are helpful and knowledgeable and will gladly assist you.
The centre is not far out of town and many visitors like to hire bikes and cycle out to it. You will only need an hour or so to explore the place but it exposes tourists to a vital aspect of life in Laos and shouldn't be missed. Moreover, if you are planning to travel off the beaten track in Laos, knowing how to recognise and react to UXOs is important.
Address: Ku Weing Rd
Website: www.copelaos.org/visit.php