Xai Xai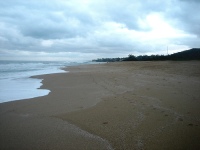 Xai Xai © Erik Cleves Kristensen
Just 124 miles (200km) north of Maputo, the small town of Xai Xai is a popular excursion for those seeking a relaxing day on the beach. Xai Xai has a scattering of shops, bars, restaurants, and accommodation, but the real draws are the superb scuba diving and snorkelling sites.
The coral reef running parallel to the main beach creates ideal diving conditions, and there are some fun dive sites nearby, including the natural underwater tunnel at Wenela Tidal Pool, just one mile (2km) south.
The sandy white beaches with their calm waters are a fantastic place to swim, with freshwater lakes nearby great for kayaking, paddle skiing and windsurfing. The resort town of Bilene is also nearby.
The lagoon at Bilene is very popular for watersports, and with safe and shallow waters, it is an especially good destination for families. However, visitors should anticipate attention from the locals selling crafts and trinkets in the region.
For those wanting to extend their stay, there are some great accommodation options, including good budget accommodation for backpackers. The roads between Maputo and Xai Xai are in good condition and traversable without a 4x4 vehicle, which is a big advantage for day-trippers.