Chan Chan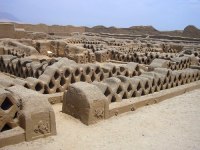 In the 15th century, Chan Chan was a huge city, the largest in pre-Colombian America. The capital of the Chimu Kingdom, the civilization fell to the Incas not long after. What remains of this vast adobe city outside of Trujillo is an active archaeological site consisting of ten walled citadels. Chan Chan, which is the largest adobe settlement in the world, was declared a UNESCO World Heritage Site in 1986, and there are a number of tours to choose from. The site is considered endangered by UNESCO, largely because the adobe buildings are sensitive to time and the elements. Only one of the nine palaces at this massive archaeological site has been properly excavated and opened to the public, but it is sufficient to paint a picture of what the city must once have looked like. The walls are intricately decorated with patterns and natural imagery, including birds, fish and even otters. It is a massive and fascinating site, which is best explored with a guide, particularly as the museum is small, old and dull. There are usually guides available at the site and there is a gift shop. It is a good idea to take water and hats along, as you may be exploring the site in the desert sun for a few hours.
Address: Moche Valley, outside Trujillo
Website: www.chanchan.gob.pe
Opening times: Daily 9am to 4pm.
Admission: PEN 10; or PEN 30 (including a guide)