Cristo Rei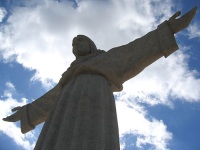 Like the iconic Christ the Redeemer in Rio, the Cristo Rei spreads his massive arms as if to embrace all of Lisbon. Situated on the bank of the Tejo River opposite the city, the statue is over 328 feet (100m) tall, and provides amazing panoramic views of the city from the top, which you can reach by elevator.
Opening times: 9am-6pm daily
Admission: €5 for the elevator to the top.