Museo del Niño (Children's Museum)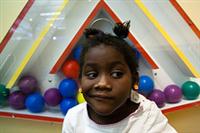 San Juan's Museo del Nino (Children's Museum) is housed in a gorgeous 300-year-old building directly across from the city's cathedral. Started at the turn of the 21st century by a group of sociologists and student volunteers, the Children's Museum provides a hands-on learning environment for kids that features a lot of interaction, if not a great amount of high-tech gadgetry and visual stimulation.
The exhibitions at San Juan's Children's Museum are educative rather than all-out fun, teaching young ones about the benefits of brushing their teeth, recycling, and caring properly for their pets. In fact, the great attraction of the museum is not its range of exhibition material, but the energy and dedication of those who work there. The museum's staff - largely comprised of student volunteers - will usually play with visiting children either one-on-one or in small groups, providing a much-needed way to burn off some pent-up energy.
Address: 150 Calle Cristo, Old San Juan
Website: www.museodelninopr.org
Telephone: 787 722 3791
Opening times: Open Tuesday to Thursday 10am-3:30pm, Friday 10am-5pm, and weekends 12pm-5:30pm.
Admission: $5 adults, $7 children under 15.