Museum of Islamic Art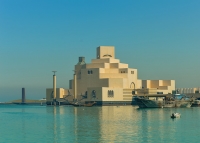 Museum of Islamic Art © Francisco Anzola
Qatar is rapidly making a name for itself in museum development and the gem of the country's cultural offering is Doha's Museum of Islamic Art. The museum houses an exquisite collection of artworks from all over the Islamic world.
The pieces on display date from the 7th to the 19th centuries and include glass, ivory, wood, ceramics, textiles, metal, precious stones and manuscripts. The collection housed at the Museum of Islamic Art was sourced from three continents and the building itself was designed by the acclaimed architect I. M. Pei.
One of the great cultural assets of Doha, all visitors to Qatar should make a trip to the Museum of Islamic Art as part of their sightseeing itineraries. Budget at least three hours to soak up all that is on offer.
Address: The Museum is located on the corniche surrounding the Doha Harbour; it is adjacent to the Dhow Harbour of Doha Port.