Khor Al Adaid (Inland Sea)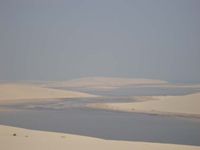 Khor Al Adaid is a breathtaking and unique geographical area in the south-east of Qatar. The Inland Sea is a tidal lake nestled in amongst the crescent-shaped sand dunes. The shallow body of water has a narrow outlet into the sea and many shore lobes. It is situated along the border between Qatar and Saudi Arabia, with shores in both countries.
As Khor Al Adaid is only accessible in four-wheel drive vehicles, tour operators offer a range of trips to the Inland Sea, including overnight camps, camel riding and dune-boarding opportunities. Only drivers who are experienced in driving four-wheel drives over dunes should attempt the trip without a tour guide - and even then, they are urged to exercise extreme caution and to let their hotel know where they are going and how long they expect to be gone.