Montelimar Beach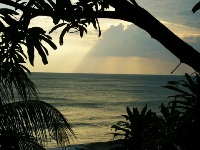 Montelimar Beach © KKatek8
Montelimar Beach sits on the Pacific Coast of Nicaragua, offering tourists the perfect Nicaraguan beach resort experience. It is one of the most beautiful beaches in the country and is the closest to the capital city of Managua, where many travellers begin their Nicaraguan visit.
The Barcelo Hotel and Resort on the old Somoza Estate is a great option for those wanting an all-inclusive beach resort getaway, featuring a huge pool, said to be the largest in the country, and even a casino overlooking the sea.
For those who prefer to avoid package deals and resorts, there are a few other options for accommodation near Montelimar Beach. The most popular activity in Montelimar is simply relaxing on the 1.5-mile (3km) stretch of beach made up of pristine white sand.
Visitors can also enjoy the animals at the nearby zoo, or go shopping at the popular curio stalls and shops dotted throughout the area. Other things to do in this Nicaraguan resort town include scuba diving, surfing, and snorkelling. Montelimar Beach is a must for visitors seeking a stress-free holiday filled with relaxation and sun.