Corn Islands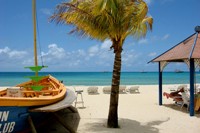 Relax on the Corn Islands © Global Multiple Listing
Adventurous travellers should definitely include the Corn Islands on their list of things to do in Nicaragua. Situated 40 miles (70km) from the mainland near the city of Bluefields, the two islands are home to howler monkeys, bats, and iguanas.
Most of the wildlife is located beneath the waves. The seas and surrounding coral reefs are extremely popular with divers, fishing enthusiasts, and snorkelers, with barracudas, nurse sharks, spotted eagle rays, green turtles, and even hammerhead sharks cruising the waters.
In the 17th century, the islands were a hideaway for pirates and smugglers, and there are still mutterings of sunken treasure and old shipwrecks. Because tourism in the destination is still in its infancy, visitors won't find modern hotels or luxury resorts on Big Corn Island and Little Corn Island.
Instead, there's a wealth of unspoiled plant and animal life, with a few sparsely populated villages offering simple, inexpensive accommodation. The Corn Islands are a perfect holiday destination in Nicaragua, a tropical paradise somehow still overlooked by tourists yet offering the expected white sandy beaches and fruit trees.