Bosawas Biosphere Reserve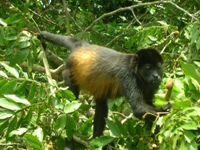 Bosawas Biosphere Reserve © puroticorico
Situated on both sides of the border between Nicaragua and Honduras, the Bosawas Biosphere Reserve covers more than 2 million acres (8093,71 square km) and is home to thousands of plant and animal species, and nearly 200,000 types of insect.
The area was designated a UNESCO Biosphere Reserve in 1997, and is the second largest rainforest in the Western Hemisphere, second only to the Amazon in Brazil. In fact, the reserve, including buffer zones, takes up about 15 percent of the country's total land area.
The forest is still remarkably unexplored and pristine, a dream for true nature lovers. Tourists who make the effort to visit the Bosawas Biosphere Reserve will discover a rich array of animal life, including pumas, jaguars, and one of the largest and most powerful eagles in the Americas, the harpy eagle.
The indigenous peoples, the Sumos and the Miskito, still practice subsistence farming within the boundaries of the reserve, much as they have done for centuries. Guided treks through the forest are available from a number of reputable tour operators.