Granada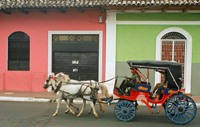 Colourful Granada © Delirante Bestiole
The colourful city of Granada offers visitors plenty of historical sights and beautiful colonial architecture, some of which dates back to the 1600s. Granada was founded in 1524 and is said to be one of the oldest cities in the New World, a Spanish showpiece that still retains a regal (if dilapidated) charm.
Many of the historic buildings have been restored multiple times over the centuries, with residents making an effort to protect their heritage despite pirate invasions and civil wars. The city boasts some lively markets and interesting museums popular with tourists.
Granada is home to a vibrant nightlife scene and a number of popular festivals, including the colourful Granada Holy Week festivities. Popular places to visit in Granada include the town's main churches, Parque Central (Central Park), Fuerte La Polvora (an 18th-century fort), Lake Nicaragua, and the Mi Museo (a private museum).
Other fun things to do in and around Granada include forest canopy tours, treks around the Masaya Volcano, shopping excursions at the town's local market, and trips to coffee plantations. Granada is the best town for visitors to use as a base while exploring Lake Nicaragua, as well as many of the country's volcanoes and beaches.