Lake Nicaragua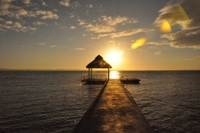 Lake Nicaragua (Lake Cocibolca) © Eric Molina
Sometimes referred to as Lake Cocibolca, Lake Nicaragua is Central America's largest lake and 10th largest body of fresh water in the world. A number of attractions apart from its size make Lake Nicaragua remarkable, spreading out beneath Mombacho Volcano.
It is one of the few freshwater bodies in the world that contains sharks. Bull sharks inhabit the depths of the lake and are a rare sight for even the most devoted spotters. Despite the lake's importance in the region, tourist infrastructure isn't necessarily up to standard.
Known locally as Las Isletas, the collection of small islands scattered within the lake are believed to be the result of a volcanic eruption thousands of years ago, which spewed massive rocks out into the water. The lake is also home to the volcanic Ometepe Island with its twin volcanic peaks.
Visitors to Lake Nicaragua can hire a boat and tour the islands while taking in the spectacular scenery and diverse bird and aquatic life. The cities of Granada, San Carlos, San Jorge, and San Miguelito are all located on the shores of Lake Nicaragua, making it easily accessible for tourists.