National Museum of Nicaragua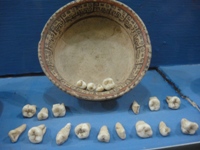 Teeth and a ceramic bowl at the National Museum © Gumr51
The National Museum in Managua is one of Nicaragua's principal tourist attractions and the city's best museum. It is situated on the Plaza de Revolucion, where the ruined cathedral and a number of other important buildings stand, and the museum building is imposing and attractive. It houses a fascinating selection of artefacts and a number of displays about Central American history, ancient Central American civilisations and the Columbus period. The museum's nine rooms house a selection of modern art and informative exhibitions about the country's turbulent natural history, including information about the numerous Nicaraguan volcanoes and earthquakes that have devastated the country over the years.
The museum staff are helpful, informative and friendly, making it an ideal attraction for any visitor wanting to learn more about Nicaragua. If you don't read or speak Spanish, it is best to take a guided tour as there is not much information in English; in fact, the tours are the best way to get to grips with all the information and bring it all to life, even if you do speak the language. Although the exhibits are not quite world class and there is certainly room for improvement, the National Museum is a fascinating place to spend a few hours.
Opening times: Monday to Friday 8am-5pm.