Villandry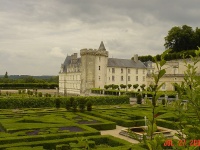 Five miles (8km) outside of Tours is the tiny village of Villandry and its wonderful château. The chateau is impressive, with richly furnished rooms and an interesting history. One of the towers dates back to the 12th century and you can ascend its uneven stairway to gain wonderful views of the grounds. Although the building and interiors are worth seeing, the château is best known for its gardens which are famous world-wide. They are open between February and November. These are not your standard ornamental gardens; between the vine-shaded paths and ornamental box hedges are carrots, cabbages and aubergines carefully arranged in patterns; roses climb gracefully above small herb gardens. The gardens are colourful and range from the extremely stylised (which include mazes and patterns) and wilder sections. There is also a garden shop for enthusiasts. Villandry is an easy cycle from Tours and, for those that have worked up an appetite, there are some excellent local restaurants. This is one of the most popular and highly-rated chateaux in the Loire Valley and it delights visitors.
E-mail: info@chateauvillandry.com
Website: www.chateauvillandry.com
Telephone: (0)2 4750 0209
Opening times: Château and gardens open daily from 9am but the hours vary monthly, see website for details.
Admission: €9.50 (château and gardens), €6.50 (gardens only). Concessions available.