Ljubljana Zoo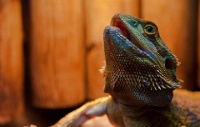 Ljubljana Zoo © Bragi Thor
The quaint Ljubljana Zoo is situated in a forested area a short walk from the city centre. The small size of the zoo gives visitors a more intimate experience, with opportunities to handle some of the animals, particularly the scary ones such as snakes and scorpions. Other animals at the zoo include wild cats, lions, sea lions, giraffes, elephants, and over 100 other species. Feeding times and training exhibitions are staged throughout the day, a schedule for which is available on the website. The zoo offers a welcome break from all the cultural and historical attractions of Ljubljana, and provides family vacationers with a wonderful way to entertain the children.
Address: Vecna pot 70
Website: www.zoo-ljubljana.si
Telephone: +386 (0)1 2442 188
Opening times: November to February: 9am-4pm; March and October: 9am-5pm; September: 9am-6pm; April to August 9am-7pm. Closed December 25.
Admission: €8 adults, €5.50 children. Other concessions available.