Jongmyo Shrine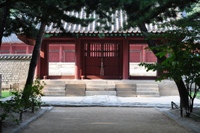 Jongmyo Shrine is a UNESCO World Heritage Site and is heralded as Korea's foremost cultural treasure. Visitors to Seoul will be hard-pressed not to visit the Jongmyo Shrine. Built in 1394, the shrine is the oldest royal Confucian shrine in the world and ceremonies, rituals and traditional dance performances are often held at the shrine. Jongmyo is the official shrine of the Korea's Joseon Dynasty. Tourists visiting Seoul will find the shrine situated within walking distance of the Changdoekgang Palace complex. Jongmyo is made up of a number of halls as well as a small cloister, the interior of the shrine as well as the roofs and ceilings are exquisitely painted and decorated. The Jongmyo Shrine is also home to over 40 memorial tablets of past kings and queens of Korea.
Address: 1 Hunjeong-dong, Jongno-gu
Telephone: +82 (0)2 765 2124
Transport: Take subway lines 1, 3 or 5 to Jongno-3-ga subway station.
Admission: Free