Jongmyo Shrine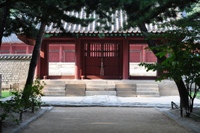 Jongmyo Shrine © Oskar Alexanderson
Jongmyo Shrine is a UNESCO World Heritage Site and is celebrated as one of Korea's foremost cultural treasures. Visitors to Seoul will be hard-pressed not to visit the Jongmyo Shrine. Built in 1394, it is the oldest royal Confucian shrine in the world and ceremonies, rituals and traditional dance performances are often held here. Jongmyo is the official shrine of Korea's Joseon Dynasty.
Jongmyo is made up of a number of halls as well as a small cloister, the interior of the shrine as well as the roofs and ceilings are exquisitely painted and decorated. 'Jongmyo' is the term used for a place where memorial services are performed for deceased kings and it is therefore unsurprising that the shrine is home to more than 40 memorial tablets of past kings and queens of Korea.
Tourists visiting Seoul will find that the shrine is situated within walking distance of the Changdoekgang Palace complex, and the two attractions can be conveniently combined while sightseeing.
Address: 157 Jong-ro, Jongno-gu
Website: english.visitkorea.or.kr/enu/ATR/SI_EN_3_1_1_1.jsp?cid=264351
Transport: Take subway lines 1, 3 or 5 to Jongno-3-ga subway station.
Opening times: The Shrine's operating hours are generally 9am to 6pm but these times can change depending on the season. Check website for details.
Admission: KRW 1,000 for adults and children (7-18) KRW 500. Children 6 and under, and people over 65, are free.