Hwaseong Fortress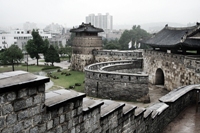 Hwaseong Fortress in Suwon © dnc
Hwaseong Fortress is yet another of South Korea's UNESCO World Heritage Sites. The fortress is situated in Suwon, south of Seoul central but still within the greater Seoul area. Hwaseong Fortress was completed in 1796 in order to protect the capital from Japanese invasions.
The three-and-a-half-mile (5.7km) fortress wall weaves in and out of the modern buildings and roads of Suwon. Visitors to Suwon can climb parts of the fortress wall and marvel at the intricate and often colourful architecture that makes this extraordinary stone edifice blend in to its surroundings in a typically Korean, harmonious fashion.
The Hwaseong fortress includes 41 watchtowers, the Great South Gate, Paldalmun, and Seobuk Gongsimdon. There are also some traditional teahouses in the vicinity of the most popular sections of the wall where visitors can stop for a refreshing cup of iced tea.
Address: 910, Jeongjo-ro, Paldal-gu, Suwon-si, Gyeonggi-do
Website: whc.unesco.org/en/list/817
Transport: Take Seoul Subway line 5 to the Suwon station.
Opening times: Operating hours in the summer season are 9am to 6pm and in the winter season 9am to 5pm
Admission: General Admission: Adults KRW 1,000; Teenagers KRW 700; Children KRW 500