Seoraksan National Park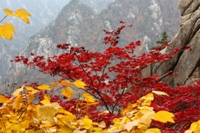 Seorak Mountain in Gangwan Province is one of Koreas most scenic areas and a UNESCO Biosphere Reserve. The Seoraksan National Park is home to South Korea's third highest peak, which visitors can climb by means of one of a variety of trails up the mountain, or for the less physically inclined there is a cable car that runs some of the way up the mountain. The most popular time to visit Seoraksan is during Autumn when the surrounding foliage creates a visual feast with the different trees' leaves changing from green to auburn, red, yellow, brown, and gold before dropping their leaves. Seoraksan is best accessed from the small seaside city of Sokcho on Korea's east coast.
Address: Gangwan-do, Sokcho-si, Seorak-dong San 16
E-mail: sorak@knps.or.kr
Website: www.english.knps.or.kr/Knp/Seoraksan
Telephone: +82 (0) 33 636 7700
Transport: From Sokcho Intercity Bus Terminal take bus number 7 or 7-1, the bus ride takes about 30 minutes. Express buses to Sokcho run every 30 minutes from the Gangnam Express Bus Terminal in Seoul.
Opening times: 10am to 5pm, closed on Mondays.