Asian Civilisations Museum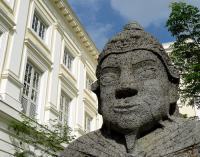 The Asian Civilisations Museum is one of Singapore's finest, most comprehensive museums and one of the most popular tourist attractions in the city. Its permanent collection consists of furniture, jade, porcelain, fine arts, and other artefacts covering 5,000 years of the region's history, with exhibitions illustrating Chinese, Islamic, and South Indian culture. As the name suggests, the museum explores Asian cultures and history, rather than just Singapore. Some of the artefacts are genuinely beautiful and the exhibitions provide great insight into trade and exploration in Asia; the meeting points of various cultures. There are also regular temporary exhibitions which can be extremely impressive. English audio guides are available, with headphones provided, and free guided tours in English are available from Monday to Friday at 11am and 2pm, on Friday evenings at 7pm, and on Saturdays and Sundays at 11am, 2pm and 3pm. On Friday nights, during the extended opening hours, tickets are half price. There is a museum gift shop and a pleasant restaurant next door, perfect for a drink or a bite after your visit. The museum is at its most pleasant on mornings during the week when it is not crowded.
Address: 1 Empress Place
E-mail: nhb_acm_vs@nhb.gov.sg
Website: www.acm.org.sg
Telephone: 6883 0732
Opening times: Open daily 10am to 7pm, except Fridays when it is open 10am to 9pm.
Admission: $8 adults, $4 concessions. Free for citizens of Singapore and children under six.