Château d'Angers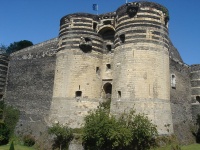 A kilometre-long wall, studded with 17 circular towers, surrounds this vast medieval fortress, which was never conquered by any invading force. Visitors can tour most of Château d'Angers, built between the 9th and the 13th century, including the courtyard, prison, ramparts, windmill tower, 15th century chapel, and royal apartments. The castle also has some lovely terraces and gardens which contrast prettily with its huge and somber limestone walls. However, the chateau is now used as a tapestry museum as well and the overriding reason for coming here is to see the 328 foot (100m) Tapestry of the Apocalypse. Woven between 1375 and 1378 for Duke Réné of Anjou, it is the largest medieval tapestry in the world and takes as its text St John's vision of the Apocalypse, as described in the Book of Revelation. Visitors may be disappointed to find that although the fortress itself is intriquing and very interesting to explore, there are no furnishings in the castle anymore and it is only the structure itself that remains. Guided tours provide insight into its architecture and fascinating history, and audio tours are available as well.
Address: 2 Promenade du Bout-du-Monde
Telephone: (02) 4186 4877
Opening times: Daily 10am to 5.30pm (5 September to 30 April); 9.30am to 6:30pm (2 May to 4 September). Last admittance is 45 minutes before closing. Closed 1 January, 1 May, 11 November and 25 December.
Admission: €6.50 (adult), free for those under 18, or under 25 for members of EU states. Other concessions available.