Jeju Island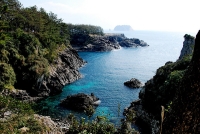 Jeju Island © Martin Chen
Jejudo is one of the most popular holiday destinations in South Korea, and can be reached by ferry from Busan. Jeju Island is situated off the southern tip of the Korean peninsula and enjoys relatively warm weather throughout the year. Visitors to the island generally flock to the beaches, but there are many other fantastic sightseeing opportunities on Jejudo.
The island is home to a number of interesting museums including the Folklore and History Museum, the Independence Museum and the fascinating Haenyeo Museum which provides valuable insight into the tradition of the Haenyeo women divers of Jeju Island. Other places of interest on Jejudo include the Teddy Bear Museum, the Green Tea Museum and the Museum of African Art which is a life-sized replica of the Djenne Grand Mosque in Mali and boasts Asia's best collection of African Art. The towering Mount Halla Volcano is certainly also one of the island's principal attractions.
Jeju Island has many places of interest: some are fascinating natural wonders, such as the Gimnyeong Maze and Manjanggul lava-tube cave on the northern shores of Jejudo, Jusangjeolli hexagonal shaped rock, Cheonjiyeon Waterfall, or Iho beach, which is made up of yellow sand and the dark grey volcanic sand which creates beautiful patterns in the tidal waters; while others are quirky, such as Mini World, a theme park with miniature replicas of famous buildings such as the Taj Mahal and the Eiffel Tower; and others are unashamedly eccentric, like Loveland, a themed sculpture park dedicated to the phallus and phallic representations which can often be found throughout South Korea as an ancient Confucian symbol.
Visitors to Jejudo can go on numerous tours of the island or they can relax on the beaches or at hot spring resorts. There are many hiking trails and going scuba diving is definitely one of the top things to do on Jeju Island. The island has a broad range of hotels and accommodation options and there are many small restaurants serving up regional delicacies ranging from live squid to Mandarin oranges, mushrooms, abalone and wild boar.
Address: Jeju-do
Website: english.visitkorea.or.kr:1001/enu/SI/SI_EN_3_6.jsp?cid=256109