YS Falls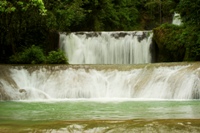 YS Falls © Alberto Bondoni
Trips to YS Falls are usually included in organised Black River tours, but the falls are an attraction in their own right and many happy hours can be spent enjoying the pools and lovely scenery. In fact, the YS Falls has won several Jamaican tourism awards, partly because of the eco-conscious development of the attraction.
The falls are located on a privately-owned farm. The waterfall is beautiful, with the water flowing over seven tiers to create a spectacular cascade surrounded by jungle and meadow scenery. Visitors to the falls can also go on a relaxing 20-minute tube ride down the river, or float in a lovely natural spring pool. For the more adventurous, there is a thrilling rope swing to play on, which propels you over one of the deep turquoise pools; and an exciting handheld zip-line tour, with seven different zips or stages, that visitors can use to propel themselves through the jungle canopy and over the water.
There are plenty of scenic picnic areas and it's ideal to bring some food and spend some time relaxing at the falls. Don't worry if you haven't got a waterproof camera, the guides will take many photos for you with your equipment. Try to get there early, as the falls are more pleasant when they aren't crowded.
Website: www.ysfalls.com