Château de Chambord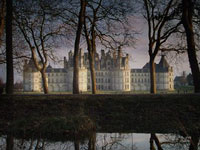 Eleven miles (18km) east of Blois, the vast Château de Chambord is the largest château in the Loire Valley. It was commissioned by François I, who wanted to outshine the Holy Roman Emperor Charles V, and the result is a spectacular Renaissance masterpiece with 450 rooms. It was designed by an Italian architect in 1519, but was worked on by French masons. The outside is essentially French medieval - massive round towers with conical tops, and an explosion of chimneys, pinnacles and turrets. The details inside, however, are pure Italian: the Great Staircase (attributed by some to da Vinci), panels of coloured marble, niches decorated with shell-like domes, and freestanding columns. Wandering through, you can get a good feel for the contrasting architectural styles, which have combined to create a very decadent, if at times discordant, whole. The château is surrounded by a 20-mile (32km) wall containing a 5,261-hectare (13,000-acre) deer park. It is one of the most impressive castles in the world.
E-mail: chambord.accueil@wanadoo.fr
Website: www.chambord.org
Telephone: (0)2 5450 4000
Opening times: Open Daily 9am to 6pm (1 April to 30 September); 10am to 5pm (1 October to 31 December); 10am to 5pm (2 January to 31 March).
Admission: Adults: €9.50, concessions available. Free for under 25s if EU citizens. Under 18s free if visiting with their families.