Uppsala Cathedral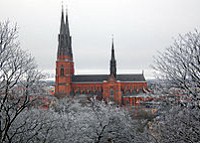 Uppsala Cathedral © Wikipedia
The biggest church in Scandinavia at 390 feet (119m), the Uppsala Cathedral, also called the Uppsala Domkyrka, dominates the city's skyline. The church was built in the 14th century for royal coronations, and is now the seat for the Archbishop for the Lutheran Church of Sweden. A number of Swedish kings and other prominent citizens are interred inside. The exterior of the cathedral is made of red brick, with a French Gothic interior featuring murals of St Erik, the patron saint of Sweden. In the summer months there are often lunch-time concerts on the tower balcony. Brochures in numerous languages are available for SEK 10, but those really interested in the cathedral's history should consider hiring a guide as there is a wealth of history on display in the church for those who know what they're looking for (if you don't bring your own guide, somebody at the church will usually be available to show you around free of charge). There is also a small museum housing ecclesiastical relics, and a graveyard with elaborately-carved tombstones. The cathedral has a small gift shop and cafe. Considered by many to be the top attraction in Uppsala, and much-loved by the locals, the cathedral is a hub of activity in the community, frequently hosting events and plenty of live music.
Address: Domkyrkoplan 2, Uppsala
Website: www.uppsaladomkyrka.se
Telephone: (0)18 18 72 01
Opening times: open daily 8am to 6pm, but admission may be restricted when services, concerts or other events are in progress.
Admission: Admission is free, but tour groups with their own guide must pay SEK 400 to view the cathedral.