Linnaeus Garden and Museum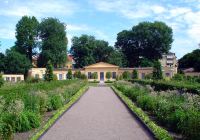 Linneaus Garden © Andreas Trepte
The Linnaeus Garden was founded in 1655 as the first botanical garden in Sweden. It wasn't until the 18th century that Carl Linnaeus, a prominent Swedish botanist zoologist, physician, and father of modern taxonomy and ecology, redesigned the garden and began cultivating plants under his own system. It now contains roughly 1,300 plant species and is maintained by Uppsala University. Within the garden is the Linnaeus museum, which was the scientist's home for 35 years. The garden is a living complement to Linnaeus' work; he designed the plot to demonstrate his theories to his students, choosing each plant for a purpose. Although the garden fell into a state of disrepair for more than a century, it was faithfully restored in 1917 using the detailed plant lists and garden maps of Linnaeus himself. Although in many ways the garden is an academic exercise, fascinating for people interested in subjects like phenology, it is also a beautiful botanical space in its own right and can be enjoyed for its aesthetic quality alone. Guided tours of the garden are available but must be arranged in advance by phone or email. There is a restaurant in the garden for refreshments.
Address: Svartbäcksgatan 27.
E-mail: bokning@botan.uu.se
Website: www.linnaeus.uu.se
Telephone: +46 18 471 28 38
Transport: Visitors can get to the gardens by city buses 2, 5, 13, 14 and 42, while regional buses 110, 111, and 115 are also suitable. All buses stop at Skolgatan, which is only a short walk from the Linnaeus Gardens.
Opening times: May: Tuesday–Sunday 11am–5pm. June–August: Monday–Sunday 11am–5pm. Closed Midsummer Eve. September: Friday–Sunday 11am–5pm
Admission: Adults pay SEK 80, while children (below 17 years of age) are admitted for free.