Ghirardelli Square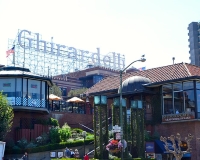 Ghirardelli Square © Ryan U
Just as you'll find gold at the end of the rainbow, there is surely chocolate at the end of the cable car line in San Francisco. Ghirardelli Square, located on Fisherman's Wharf, is occupied by shops, restaurants, art galleries, and of course the famous Ghirardelli Chocolate Company. While the factory itself is no longer located there, the square is listed in the national register of historic places, and there is a free guided history tour every Tuesday and Wednesday morning at 9:30am.
Address: 900 North Point Street
Website: www.ghirardellisq.com
Telephone: (415) 775 5500
Opening times: Sunday to Thursday 10 am-6 pm. Friday and Saturday 10 am-9 pm.
Admission: Parking: first hour $5,00, each additional hour $8,00