Tower Bridge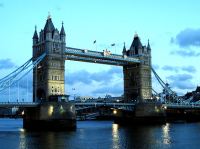 Tower Bridge © Miquel C
The twin spires of the iconic drawbridge known as Tower Bridge stand 213 feet (65m) above the Thames River, and form one of the most popular tourist attractions in London. Often mistakenly referred to as London Bridge (which is a bit further upstream), Tower Bridge functions as both a roadway and a major tourist sight, and provides a magnificent view of downtown London from its upper walkway. Inside is the Tower Bridge Exhibition, which showcases the Victorian engine that powers the drawbridge, as well as a series of informative displays detailing the history of Tower Bridge, which stretches back to 1886.
Address: Tower Bridge Road, London
Website: www.towerbridge.org.uk
Telephone: +44 20 7403 3761
Transport: Tower Hill underground station
Opening times: Open daily, from 10am to 5.30pm (April to September), and from 9.30am to 5pm (October to March).
Admission: £9.80 (adults), £4.20 (children 5-15). Children under the age of 5 are admitted free of charge. Concessions available.