Palais Longchamp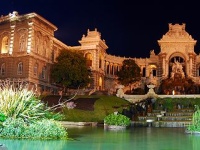 One of Marseille's most scenic buildings is the Palais Longchamp. Built during the Second Empire, it is the grandiose conclusion of an aqueduct that once brought water from the Durance to the city. Although the aqueduct is no longer in use, water is still pumped into the centre of the colonnade connecting the two palatial wings. Below, a spectacular fountain features an enormous statue of three muscular women above four bulls wallowing in a pool from which a cascade drops four or five storeys to ground level. Marseille had a serious water problem (and attendant cholera problem) for centuries so this enormous tribute to water is historically fitting. In the palace's north wing is the Musée des Beaux-Arts, which displays a vast array of paintings from the 16th to the 19th centuries. They include works by Corot, Millet, Ingres, David, and Rubens as well as some 80 sculptures and objets d'art; particularly interesting is a gallery of Pierre Puget sculptures. The palace also houses the Natural History Museum, and there is a small Planetarium in the vast park. It is lovely to wander or picnic in the gardens and, every year in July, the huge park is the main venue for Marseille's prestigious Five Continents Jazz Festival.
Address: Boulevard Montricher
Telephone: (0)4 9114 5930
Opening times: Daily 10am to 5pm, and 11pm to 6pm on weekends in June to August.