Puy du Fou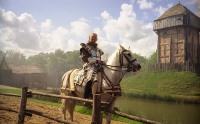 Puy du Fou is a historical themepark in western France which attracts over 1.5 million visitors a year, making it the second most popular paid attraction in the country. The experience is akin to being on a giant interactive movie set as different historical scenes are played out with considerable exuberance by a large cast of actors against very realistic and impressive sets. There are five thrilling attractions, or perhaps more accurately, performances, including The Vikings and Richelieu's Musketeers, each lasting around 40 minutes.
In the evening during peak season, the Cinescene historical extravaganza is held on reputedly the largest stage in the world, with over 1,000 actors, hundreds of horses and great volleys of fireworks. The children especially will be spellbound but adults will also greatly enjoy it. The park is set in gorgeous woodlands, and has 25 restaurants, 3 hotels and plenty of other amenities to ensure a comfortable visit. Performances are in French so English-language translation headsets should be reserved in advance if required.
Address: Les Herbiers 85 590 Les Epesses
E-mail: contact@puydufou.com
Website: www.puydufou.com
Telephone: +33 2 51 64 11 11
Transport: TGV to Angers station (1hr 30 mins from Paris)
Admission: Prices vary according to season and what you want to see, please check the website for details. Concessions are available and there is a discount for advance bookings.