Arlington Antebellum Home and Gardens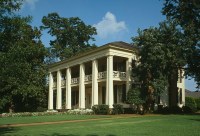 Arlington Antebellum Home and Gardens © Jet Lowe
A visit to this stately plantation house is a great way to get a taste of real Southern heritage. Situated on six acres in the heart of Old Elyton, the house was built by Judge William S Mudd, one of the founders of Birmingham, in the 1840s. The house is in the Greek Revival architectural style typical of this period, and functions as a 19th-century decorative arts museum, with a collection of furniture, artwork, textiles and silver from the 19th century. The grounds are also beautiful, spread across six acres of leafy pasture, and are a joy to explore. The estate is a popular venue for events like weddings so it is worth checking in advance if it is open to visitors, especially in the summer months.
Address: 331 Cotton Ave SW
E-mail: arlingtonantebellumhome@gmail.com
Telephone: (205) 780 5656
Opening times: Tuesday-Saturday 10am-4pm, Sunday 1pm-4pm. Closed Monday.
Admission: $5 adult, $3 children, other concessions available