Badlands National Park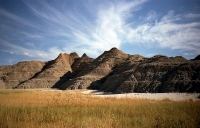 Badlands National Park, © Stefan Fussan
The Lakota tribe gave this area of South Dakota the name Mako Sica, translating roughly to 'bad land'. The people led by Chief Sitting Bull weren't exaggerating, as modern visitors to Badlands National Park brace themselves for an unsettling and otherworldly terrestrial experience.
Drenched and blasted by winds for millennia, the landscape is a series of sharp ridges, steep canyons, gullies, pyramids, and buttes. Exposed rock often appears in beautiful bands of colour, from deep purples through to vermillion, orange, and gold.
Trips to Badlands National Park offer hiking trails with plenty of signage and first-class camping facilities. Programmes with rangers are available, including children's activities, hikes, lectures, and audio-visual presentations.
Exhibits display fossils from ancient plants and animals, alongside the pretty wildflowers. Guests can also take advantage of the Night Sky Program, enjoying the clear blanket of darkness studded with silver stars. Rangers will help to identify constellations and planets.
Website: www.nps.gov/badl/index.htm