Knoxville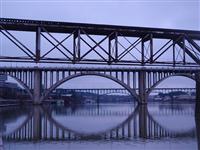 The third-largest city in Tennessee, Knoxville - although not as illustrious as Memphis or Nashville - is well worth a visit. Serving as Tennessee's capital from its admission into the Union in 1796 until 1817, early reports of Knoxville described it as an "alternately quiet and rowdy river town."
Modern-day visitors to Knoxville, just three hours east of Nashville on Interstate 40, have plenty of attractions to choose from. The Great Smoky Mountains National Park is a stone's throw away, while downtown Knoxville - the venue for the 1982 World's Fair, which brought 11 million visitors to this compelling city on the banks of the Tennessee River - boasts the Women's Basketball Hall of Fame, and the historic Tennessee Theatre.
Knoxville is also home to the University of Tennessee: if at all possible, try get a ticket to a UT Vols football game. Their fanatical, orange-clad supporters are a sight to behold on game-days; filling the 100,000-seat Neyland Stadium with ease, and raising a cacophony that can be heard right around the city. The downtown area known as the Jackson Avenue Warehouse District, immortalised by Cormac McCarthy's sprawling novel Suttree, is an invigorating place to walk around, full of soot-blackened buildings, jazz bars, and funky home-style restaurants.
Website: www.ci.knoxville.tn.us