Chicago History Museum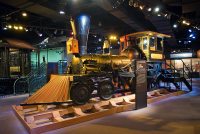 Chicago History Museum © Jeremy Atherton
Chicago has a colourful and fascinating history, ranging from devastating fires to gangster assassinations. The Chicago History Museum represents this history through an intriguing collections of artefacts from the city's past. This includes the first passenger car to operate on the Chicago L system, Michael Jordan's Chicago Bulls jersey, and seemingly every postcard ever made of Chicago. The admission cost includes an audio guide to help visitors make sense of all the exhibitions. The permanent collection is more than sufficient to capture the imagination, but the museum does also host regular temporary exhibitions and special events.
Address: 1601 North Clark Street
Website: www.chicagohistory.org
Telephone: (312) 642 4600
Opening times: Monday to Saturday 9.30am to 4.30pm; Sunday 12pm to 5pm. Open to 9pm on Tuesday.
Admission: $19 (adults); free for children under 18. Concessions available.