New Orleans Historic Voodoo Museum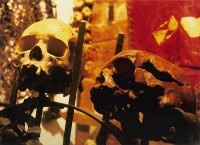 Voodoo Museum © Mark Heard
Voodoo came to Louisiana through African slaves, and has been practised since the early days of the city. New Orleans is known worldwide for its shady association with the darker arts, and the small but fascinating New Orleans Historic Voodoo Museum has artefacts and exhibits depicting the history of its practice in the region. There is usually a voodoo priestess on hand to do palm readings and even make personalised gris-gris bags. The museum may also arrange excursions to voodoo rituals upon request.
Address: 724 Dumaine Street, French Quarter
Website: www.voodoomuseum.com
Telephone: (504) 680 0128
Opening times: Daily 10am-6pm
Admission: $7 adults, $3.50 children. Concessions available.