Château d'If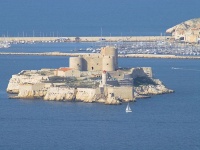 On the sparsely vegetated island of If is the infamous prison, Château d'If, which is best known as the penal setting for Alexandre Dumas' The Count of Monte Cristo. François I built the fortress here to defend Marseille and its port in the 16th century, and the site later housed a state prison which was notorious for incarcerating enemies of the royalty. The cells are horribly well-preserved; carvings by Huguenot prisoners can still be seen inside some of them. On a lighter note, the views back towards Marseille and the mountains beyond are wonderful to behold and the trip over in a boat is enjoyable. The ferry to the island will not run if the weather is bad and opening and closing times can change in accordance with the ferry schedule.
Website: if.monuments-nationaux.fr/en/
Telephone: (0)4 9159 0230
Transport: Boats for If leave hourly from the Quai des Belges, on the Vieux Port, between 9am and 6pm
Opening times: 16 May to 16 September: open daily 9.30am to 6.10pm. 17 September to 31 March: closed Mondays and open every other day from 9.30am to 4.45pm. 1 April to 15 May: open daily 9.30 to 4.45.
Admission: Castle and Island: €5.50 (adults); free for those under 18, and those under 25 if members of EU states. Concessions available.