Monetary Museum at the Federal Reserve Bank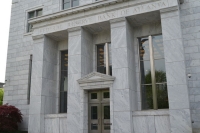 Federal Reserve Bank © Andrey Dumchev
Although it doesn't sound like much of a tourist drawcard, visitors to the Federal Reserve Bank are unanimous in their enthusiasm about the fascinating Monetary Museum found there.
Whether part of a guided group tour (recommended for scholarly types), or just perusing the exhibitions on one's own, a visit to the Federal Reserve Bank is bound to instil in visitors a renewed appreciation for the rich history that informs present-day money use in America.
Tour highlights include an extensive 'History of Money' exhibition, displaying antiquated currency from all over the world; interactive, multimedia displays that teach you how to spot counterfeit money; the opportunity to lift a $450,000 gold bar; and a free bag of shredded money to take home as a souvenir.
Visitors are guaranteed to leave the tour with a better understanding of the role that money plays in their everyday lives.
Address: 1000 Peachtree Street Northeast, Atlanta
Website: www.frbatlanta.org
Telephone: (404) 498 8500
Opening times: Tours are offered from Monday to Friday, at 9:30am, 11am, and 1pm. Tours must be requested, by filling in a form on the Federal Reserve Bank website. Self-guided tours are possible Monday to Friday 9am-4pm. Self-guided tours are limited to the Visitor's Centre and the Monetary Museum, and do not need to be scheduled in advance.
Admission: All tours are free of charge.