Monetary Museum at the Federal Reserve Bank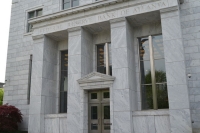 Federal Reserve Bank © Andrey Dumchev
Although it doesn't sound like much of a tourist attraction, a visit to the Monetary Musuem at the Federal Reserve Bank leaves visitors unexpectedly entertained. Tour highlights include an extensive 'History of Money' exhibition, displaying antiquated currency from all over the world, and an interactive, multimedia displays that teach you how to spot counterfeit money. Tourist can try to lift a $450,000 gold bar, create their own currency, and take a free bag of shredded money to take home as a souvenir. Whether part of a guided group tour, or just perusing the exhibitions on one's own, a visit to the Federal Reserve Bank is bound to instil in visitors a renewed appreciation for the rich history that informs present-day money use in America.
Address: 1000 Peachtree Street Northeast, Atlanta
Website: www.frbatlanta.org
Telephone: (404) 498 8500
Opening times: Tours are offered from Monday to Friday, at 9:30am, 11am, and 1pm. Tours must be requested, by filling in a form on the Federal Reserve Bank website. Self-guided tours are possible Monday to Friday 9am-4pm. Self-guided tours are limited to the Visitor's Centre and the Monetary Museum, and do not need to be scheduled in advance.
Admission: All tours are free of charge.