Old Orchard Beach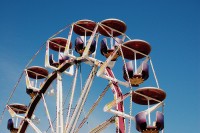 Old Orchard Beach © Devin Young
As its name suggests, Old Orchard Beach's most popular attraction is its seven mile (11km) stretch of sand, one of the best beaches in Maine. The town is a popular excursion for families in the summer, and a seaside amusement park and weekly fireworks shows add to the entertainment.
Other popular activities include surfing, lobster boat tours, hiking, canoeing, and clamming. Old Orchard Beach hosts many festivals and events throughout the year with most happening between July and September during peak holiday season.
A direct seasonal train link from Boston and Portland makes Old Orchard Beach easy to get to. But holiday weekends can often be uncomfortably crowded. Old Orchard Beach is not a wildly popular winter destination, but cross-country skiing and snowmobiling are both on offer.
Website: www.oldorchardbeachmaine.com