Korean DMZ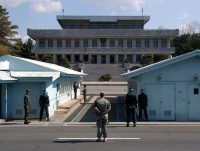 Korean DMZ © Driedprawns
For those with even a passing interest in historical affairs, the Korean Demilitarised Zone (DMZ) - about two miles (4km) of demilitarised land that divides the Korean peninsula in two - is an absolute must-see. The DMZ was established in 1953, at the end of the Korean War, and remains not only the most heavily-armed and guarded territory on the planet, but also the last surviving relic of the Cold War.
Day-trips, which include guided tours of North Korean infiltration tunnels and the Joint Security Area (Panmunjeon), the site of negotiations between the warring nations, leave from downtown Seoul. Upon entry into the DMZ, visitors are required to put their signature on an indemnity form, acknowledging that they are entering a 'hostile area', where they face 'the possibility of injury or death as a direct result of enemy action'. Of course, the risk is part of the excitement, but travellers should ensure that they keep informed on regional upsets because at times there is still open conflict between North and South Korea.
Another interesting aspect of the DMZ is that, due to the total absence of development in the area for nearly 60 years, it has become the site of what must be the world's most unlikely wildlife sanctuary. An area of serene and unspoiled beauty, it is home to several rare and endangered species, such as Asiatic black bears, Amur leopards and Korean tigers. There are some hotels and hostels in the area for those who want more than just a tour.
Address: Korean peninsula region
Website: www.visitkorea.or.kr/ena/SI/SI_EN_3_4_1.jsp
Transport: Since tours of the DMZ are strictly by reservation only, visitors will need to engage the services of a tour company to visit the site.
Opening times: The DMZ is closed on Mondays and Korean national holidays