Cape Cod Lighthouses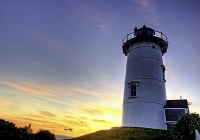 Nobska Lighthouse © Francisco Diez
Cape Cod is home to a number of picturesque lighthouses that draw sightseers throughout the year. At one point, there were more than 20 on the peninsula. However, many of them are now decommissioned and knocked down.
Those remaining have varying degrees of difficulty in access: some are easy to reach, while others require a hike. Some of the most popular, and easiest to get to, include Chatham Light and Nobska, which offers a spectacular view of Martha's Vineyard. Some that involve more walking are Cape Cod Light and Race Point Light.
There are also lighthouses that only viewable from a distance, including Monomoy Light, which involves a boat trip past a very active seal colon. Some of the lighthouses can be rented for weekly accommodation.
Website: www.capecodlighthouses.info