Target Field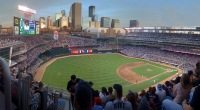 Target Field © drumminhands
Home to the Minnesota Twins Major League Baseball team, Target Field was built in 2010 and is considered one of the most state-of-the-art baseball stadiums in the world. Minnesotans tend to be rather affectionate toward their team, and a day at the ballpark is a fun family activity for Minnesota tourists of all ages; an added bonus is that fans get a picturesque view of the downtown Minneapolis skyline.
The stadium itself is beautifully and intricately constructed, and daily tours reveal hidden secrets like the players' locker rooms, clubhouse, and the elaborate underground systems that both heat and irrigate the field.
Address: 1 Twins Way (3rd Ave. N, between 5th St. N and 7th St. N), Minneapolis
Website: minnesota.twins.mlb.com
Telephone: (612) 659-3400
Transport: The Hiawatha Light Rail and Northstar Rail line both have stops at Target Field.
Admission: Tickets range $14-85, depending on section, and are available from the website.