Boundary Waters Canoe Area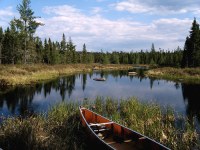 Boundary Waters Canoe Area © rengber
Part of Superior National Forest, the Boundary Waters Canoe Area (also known as the BWCA), is an immense chain of lakes in north-eastern Minnesota that is extremely popular for canoeing, camping and fishing. With more than a million acres of pristine wilderness, it's no wonder the Boundary Waters is the most visited wilderness area in the United States.
Visitors can hike through forests, and canoe along thousands of miles of water routes. No motor vehicles or boats are allowed in the park, and there are strict guidelines as to leaving the area as you found it. Combine this with the fact that you may explore for days without seeing another person, and it's easy to understand why the Boundary Waters is the perfect place to get lost in nature.
The best time to visit the Boundary Waters come in the summer months (June to August), as summer temperatures are warm but rarely exceed 90°F (32°C). Entry points include Ely in the west, and Grand Marais in the east. Both towns have numerous outfitters where canoes, kayaks, and camping equipment can be hired. Note that camping permits are required.
Website: www.bwca.com